Cast Iron or Acrylic Bathtubs?
Apr 17, 2023
If you're interested in replacing your bathtub or considering bathtub replacement, you're looking in the right place. Information on cast iron bathtubs, acrylic bathtubs, and essential information on the two options. If you're unfamiliar with the variety, no need to worry you can leave it up to us. But first, let's discuss options and what may be best for you.
Acrylic Bathtub vs Cast Iron
So what exactly does it mean to have a cast iron tub? Cast iron tubs are best known for being durable. However, they require much maintenance with time. When considering durability, cast iron bathtubs are pretty durable lasting an approximate amount of 70 years. The average acrylic bathtub lasts a significant amount of time. These factors vary depending on how well the bathtub is maintained. A bathtub that lasts 70 years sounds great but I wouldn't let this be the final determinator when deciding between the two. Cast iron is prone to rotting, chipping which explains the high maintenance factor. In attempt to DIY, this process typically includes the following:
Rust removal from scrubbing
Allow area to dry
Insert metal filler
Sand and finish hardened filler
Apply appliance epoxy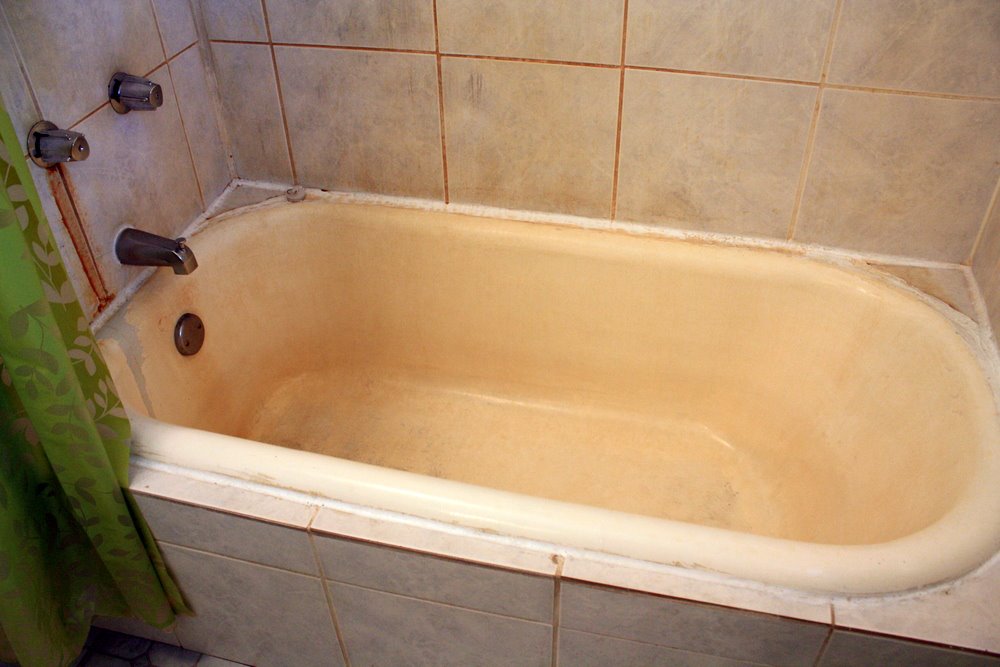 An individual with little to no experience may refrain from completing this task on their own and just having the professionals take care of the maintenance. Although this is the easier option, it does typically cost anywhere from $350 to $600 to refinish. All in all, the cast iron bathtub is likely to be the less appealing option in regard to the additional efforts needed to keep it in great condition. Some homeowners may have the time to dedicate, but for those who don't, the $350-$600 refinishing costs adds up overtime.
On the other hand, acrylic bathtubs are light-weight typically weighing 70 pounds and have a much easier installation process. In fact, it is typically a one-day bathtub replacement process.
In more recent years, acrylic bathtubs have grown in popularity. More specifically, high-tech polymer bathtubs are new enhanced acrylic bathtubs offering a high-end look for affordable pricing, minimal maintenace, and amazing quality! There really isn't much else to ask for! Now let's get into the details…
Acrylic Polymer
So what exactly are polymer bathtubs? Polymer bathtubs are the result of a process which combines polymeric materials, resins, and minerals to form a solid product, this is then finished off with a gel coating. Acrylic polymers are high-value in the sense that they're durable with much elasticity. High-tech polymers are the best material for permanent results. In a sense this bathtub replacement option will provide you with the long-lasting benefit of a cast-iron bathtub for much lower costs and maintenance upkeep.
This bathtub material is also non-porous. This simply means that the finished surface is poreless and sealed, preventing outcomes such as mold, mildew, soap scum, and other bacterias from forming over time. Ultimately, this also helps making your regular cleaning process much easier and less daunting, requiring less effort and needless of any cleaning products which would typically include harsh chemicals.
Chemical Paints
For a bathtub replacement, there are usually three types of paints used. Those being; polyurethanes, epoxy, and of course acrylic polymers. Polyurethanes have plastic
ingredients, vegetable oil acids, mineral components and isocyanates. Water-based polyurethane is a lighter substance, for purposes of refinishing a bathtub, it isn't preferred since it does tend to chip more easily and frequently. Epoxy, an adhesive paint with fast-drying capability. Unfortunately, this chemical paint will eventually become yellow and frangible in due time. Leaving you with the best option, acrylic polymers.
Whether or not you've considered the health factors that this process includes, you might find this additional information to be useful. Polyurethanes, an alternative paint option, contains a harmful chemical named isocyanate. Isocyanate is known to be damaging to one's health, potentially causing people, children especially chronic diseases such as asthma. The benefit of Acrylic polymers is that even with the same features that make Polyurethanes favorable, they don't contain the harmful additives.
Simply put, acrylic polymers for the wall and base of your bathtub, are the safest option for bathtub replacements.
Acrylic or Cast Iron Bathtubs? What's Actually in Style?
Let's get into the fun stuff! We've discussed everything important to reach a conclusion between cast iron bathtubs and acrylic bathtubs but we're not quite done yet. In recent years, acrylic bathtubs have become extremely popular. There's a few reasons for this. Besides the fact that they're affordable, low-maintenance, and lightweight, they're adaptive to today's modern style. Acrylic bathtubs happen to be malleable, therefore, making them super customizable in comparison to any other bathtub material. If you just so happen to make the best choice, with your future bathtub you'll have a variety of options for color, shape, and size!
Refer to the images below for some of our customizable features! You'll notice two of our unique layouts, beneficial for safety purposes.
Written 2/1/23
Contact Us
Main Office: (860)-398-6253
Fax: (860)-829-8042
‍
Call 24 hours a day, 7 days a week!
Office Hours:
Mon – Fri: 8:00 am – 8:00 pm
Saturdays: 8:00 am – 5:00 pm